Lars Leksell
(1907-1986)
A Brief Biography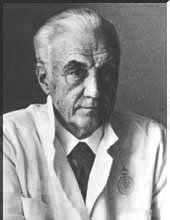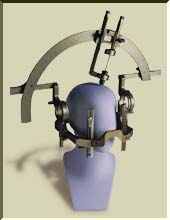 Swedish physician and Professor of Neurosurgery at the Karolinska Institute in Stockholm.
Professor Lars Leksell introduced his stereotactic instrument for human functional neurosurgery in 1949. The basic component of the Leksell System was the Cartesian coordinate frame.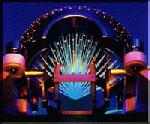 In 1951, using the Uppsala University cyclotron, Leksell and the physicist and radiobiologist Borje Larsson, developed the concept of radiosurgery. Leksell and Larsson first employed proton beams coming from several directions into a small area into the brain, in experiments in animals and in the first treatments of human patients. Thus, he achieved a new non-invasive method of destroying discrete anatomical regions within the brain while minimizing the effect on the surrounding tissues. Later, a special apparatus known as the "Gamma Knife", was developed by Lars Leksell in 1968. It is a sterotactice device which contains multiple radioactive cobalt sources and is dedicated solely to radiosurgery. Today, Leksell's technique is used as an effective treatment for many conditions such as arteriovenous malformations, pituitary tumors, acoustic neuromas, craniopharyngiomas, meningiomas, metastatic and skull base tumors, and primary brain tumors. The Gamma Knife is manufactured by Elekta Instruments, Inc., a Swedish company which manufactures stereotactical surgery and radiosurgery equipment, based on the inventions of Lars Leksell. It was founded by him in 1972.
"Tools used by the surgeon must be adapted to the task and where the human brain is concerned, no tool can be too refined."
---
To Know More
The History of Stereotactical Radiosurgery

, by Stephen B. Tatter, MD, PhD, Massachussetts General Hospital, Dept. Neurosurgery.

The original Leksell's papers on stereotactic radiosurgery are: Larsson B, Leksell L, Rexed B , et al: The high energy proton beam as a neurosurgical tool.

Nature

182:1222-3, 1958; and Leksell L: The stereotaxic method and radiosurgery of the brain.

Acta Chir Scand

102:316-19, 1951.

Montagno, E.A. -

Radiosurgery

.

Brain & Mind Magazine

, June 1997

Elekta Instruments, Inc,

Home Page
---