Comparison of the James-Lange and Cannon-Bard theories of
emotion.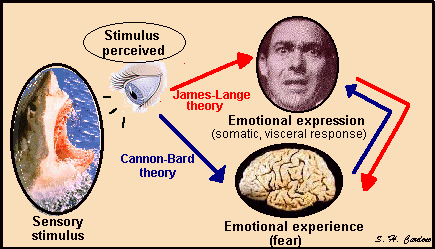 Comparison of the James-Lange and Cannon-Bard theories on
emotions. According to the James-Lange theory (red arrows), the
man perceives the frightening animal and reacts with physical (neurovegetative) manifestations. As a consequence of such unpleasant physical reaction, he develops fear. In the Cannon-Bard theory
(blue arrows), the frightening stimulus leads, first, to the feeling of fear which, then, brings about the physical response.
At the end of the last century, William James proposed that a person, after perceiving a stimulus that somehow affected him or her, endures disturbing physiological changes such as palpitations, shortness of breath, anxiety, etc.. It is precisely the acknowledgment of these symptoms (by the brain) that creates emotion. Stating it in a different way, we could say that physical sensations are the emotion.
In 1929, Walter Cannon refuted James's theory and advanced another one, that was soon modified by Phillip Bardand and became known as the Cannon-Bard theory which states that, when a person faces an event that somehow affects him or her, the nervous impulse travels straight to the thalamus where the message divides. One part goes to the cortex to originate subjective experiences like fear, rage, sadness, joy, etc. The other part goes to the hypothalamus to determine the peripheral neurovegetative changes (symptoms). According to this theory physiological reactions and emotional experience occur simultaneously.